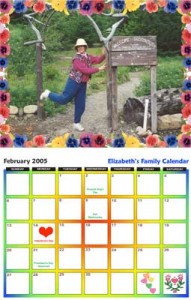 As your family expands, how many times have you forgotten a niece or uncle's birthday? Do you know your grandmother's birthday? When was your sister married?
To help me remember and get those cards out on time, I made a family calendar with pictures of the birthday and anniversary recipients on the month of their special day and marked it on the calendar.
To take it one step better, I also put the photos and calendar in a clear plastic sleeve so when I come across the perfect card for someone, I can slip it into that months' sleeve to have ready for that person's special day.
The most time consuming, yet fun part of this project is finding pictures of every person you want to send cards to. They should include current and past photos. I scan them, add borders and calendars to match. Then assemble it. Since the calendar is in a plastic sleeve, it can be updated yearly without having to replace the photos.
These family calendars make GREAT presents for the person who has everything or for that relative who you rarely hear from, or just a reminder for that sibling who never remembers your birthday!